CycleMiles Artist of the Month for May is Simon Spilsbury
Simon Spilsbury. Just how do you describe the Art of Simon Spilsbury? Amazing? Mad? Genius? Wild? Funny? Fast? Wonderful? He's all these things and more.
We've known Spilsbury for so long now, we can't remember when we first discovered his work. We do remember bumping into Spilsbury at the NEC Cycle Show in 2015 and having a laugh with him. Zoë remembers him saying about CycleMiles "Is he always like that" as Miles was talking excitedly about art, illustrations and cartoons with Spilsbury.
As the old cliche goes, the rest is history. Spilsbury has been a rock solid CycleMiles hit with cycling fans since.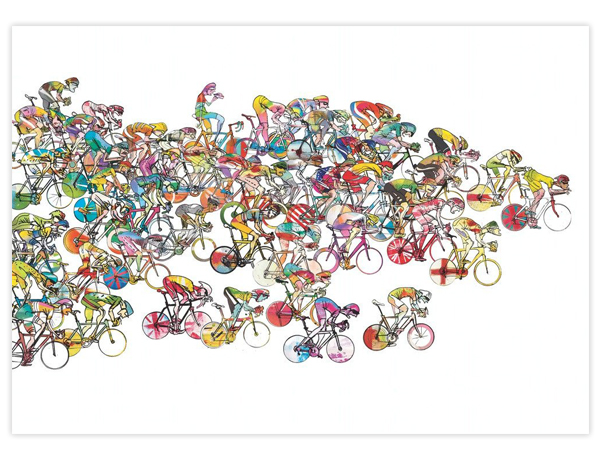 At CycleMiles, Bunchsprint is the Spilsbury cycling print that outsells all his others by a country mile. It's fabulous. Capturing the energy and wildness of the peloton with a big dollop of humour and laughs.
Things you may not know about Spilsbury.
1. He lives in Bristol and his studio is there too.
2. He once rode as a professional for Team Skye but was released from his contract for eating too many mars bars.
3. Those illustrations on Charlie Bigham's ready meals in Waitrose. You guessed it. Spilsbury.
4. Spilsbury left home at the age of 16 with just a tuna sandwich in his knapsack to work in an Australian travelling circus as a lion tamer.
5. Remember 'Vision On'? Well, you'd probably worked it out for yourself, but yes, Spilsbury is the son of Tony Hart and Morph. He was always going to draw. It's in his DNA.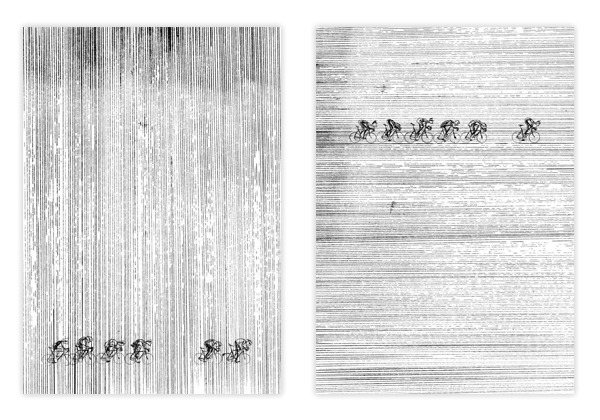 If you like monochrome then Elements 01 and Elements 02 may be your thing. Elements 01 always reminds us of cycling in the pouring rain. Elements 02 just cycling with your head down. Cycling, cycling, cycling. They look great when hung as a pair.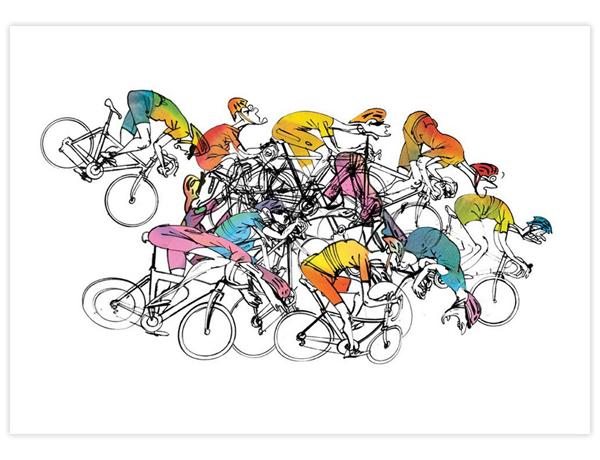 The Pelatoon series is a wonderful series playing on Peloton and Cartoon. There are 5 in the series. Pick your favourite. Ours is Pelatoon 04. We love the bike stacking it at the back. But every cyclist in the Pelatoon makes us smile.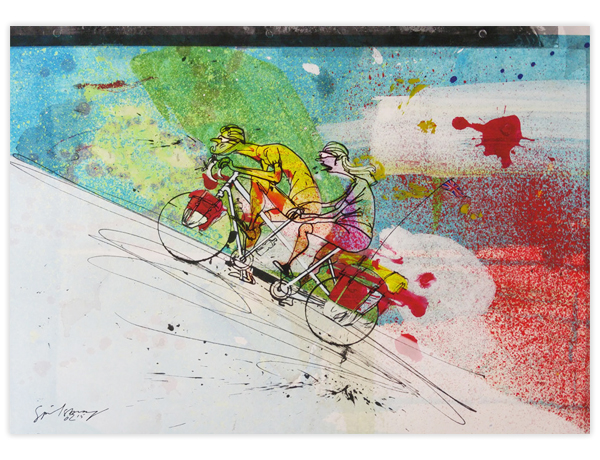 If you or a friend ride a tandem then perhaps Tandem Pain will strike a chord. We asked Spils to create a tandem cycle touring print for CycleMiles and this is his wild creation. A signed and numbered limited edition of just 25 giclee prints. Just a few left now, so grab your copy. Available as a greeting card too.
Want to get your fantastic Spilsbury print framed. CycleMiles can help.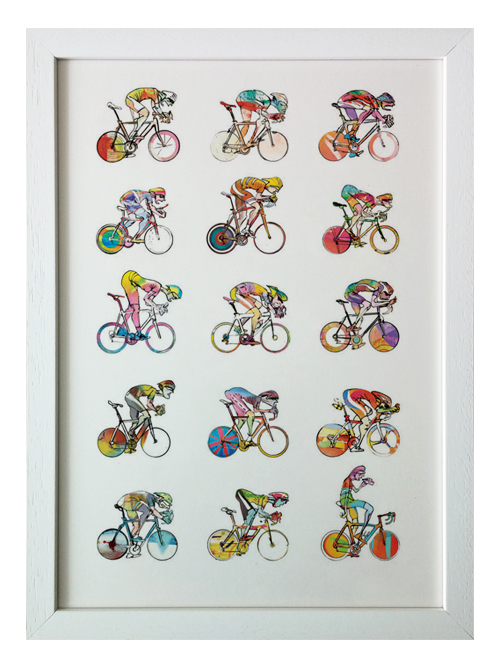 Most Simon Spilsbury prints are printed at standard A3 size. They look fantastic framed edge to edge. CycleMiles has our own picture frames made using the very best quality solid wood Arqadia mouldings. When bought together with a Simon Spilsbury print, we will carefully frame, seal and string your print at no extra charge so that it is ready to hang. A great gift for any cycle racing fan.