CycleMiles Artist of the Month for April is Hugh Ribbans
We're big fans of Hugh Ribbans at CycleMiles. He is the loveliest man and such a talented artist and printmaker.
We first came across Hugh's work when seeing Hugh's 'Sheep may safely gaze' print on an Art Angels greeting card (Art Angels have it titled incorrectly as 'Sheep may safely graze'. However, the sheep are gazing at the cyclists riding past, not grazing. We loved the print so much, we quickly arranged to visit Hugh at home near Faversham in Kent. We came away knowing we had met an incredible artist and knowing so much more about printmaking.
Hugh produces each print by hand on his beautiful large 19th century Columbian iron handpress. He usually produces a limited edition just 50 prints of each image + 2 or 3 Artist's proofs. Artist's proofs are the first prints made to check that print is printing as the artist intended. They do not count as part of a limited edition, albeit, some collectors prefer to purchase Artist Proofs rather than a numbered edition.
The inspiration for Sheep may safely gaze (long sold out) was the 2007 Tour de France, stage 1 in Kent . Following this, Hugh was inspired by the 2012 London Olympic velodrome at Lee Valley Park, to create 'Velodrome' and 'Ahoy there! Velodrome II'. Ahoy there, being a play on (Chris) Hoy, winner of his 6th Olympic gold cycling medal at the 2012 games.
In 2015 CycleMiles commissioned Hugh to create a more leisurely cycling image and the result was 'Birds, Boats and Bicycles'. The view is from Hugh's house, which overlooks Conyer Creek. As always, there is so much of interest and detail in this print with cycling, nature, the countryside and the sea all in one print. Every time you look at it, you may spot something new that you hadn't seen before.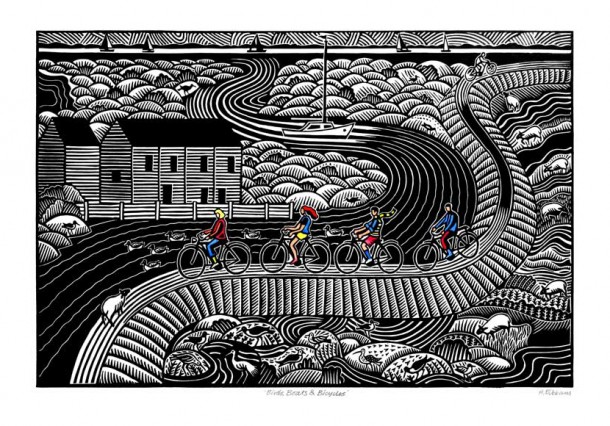 Hugh's most recent cycling print is 'Bee is for bicycle'. Originally a commission for a bee keeping, cycle racing, dog loving, train spotting family in Kent. It's fantastic. Imagine cutting all those tiny bees in the linocut. A labour of printmaking love.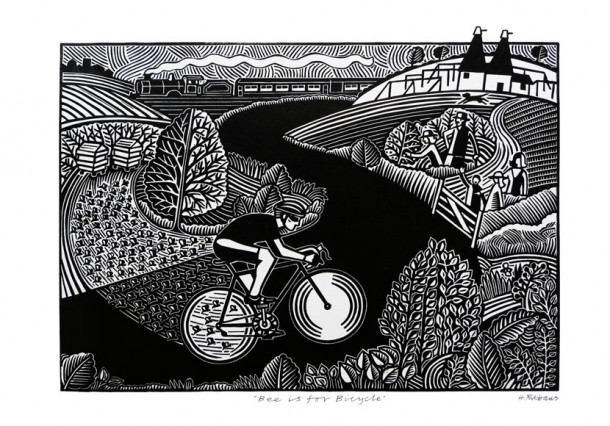 All Hugh's cycling prints (except when the edition is sold out) are available from CycleMiles. You can purchase the print only; already mounted so you just have to arrange your own framing; or mounted and framed. Our Arqadia mounts are the very best, acid free archival quality. We use Arqadia mouldings (frames) too and our complete framing service is undertaken by a conservation framer, so your print will stay protected and looking fantastic for years to come.
If you can't quite run to the cost of an original Hugh Ribbans print, albeit they are incredible value for money, all of Hugh's prints are available as greeting cards in the CycleMiles 'Art of Cycling' series of greeting cards. 'Bee is for bicycle' will be available as a greeting card very soon.
If you hadn't previously seen Hugh's work, we hope you've enjoyed looking at these images of his prints. If you're already a Hugh Ribbans collector and fan, thank you from us and Hugh too.