Description
Angel of the Mountains Cycling Print by Andrew Pavitt
Andrew Pavitt was chosen to exhibit at the Royal Academy of Arts 2013 summer exhibition. It's easy to see why. His work is fabulous.
This is very different to Andrew Pavitt's usual work and is his "Homage" to Charley Ghaul, Angel of the mountains and winner of the 1958 Tour de France.
Andrew is a designer and illustrator based in London. His influences include the Grosvenor school and the lesser known beautiful linocut prints of Anna Findlay.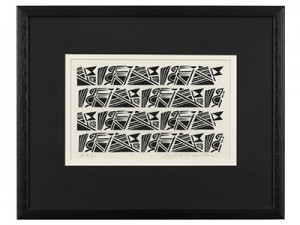 Name – Angel of the Mountains
Artist – Andrew Pavitt
Edition – Limited edition of 20
Technique/Medium – Linocut / Ink
Printed on – Japanese kozo paper
Size of Mount – 425mm x 295mm
Size of Image – 305mm x 185mm
Cycling Print Purchase / Delivery Options
Framed  – Collection only. If we tried to send it to you the glass just wouldn't survive the trip and would damage the print.
Mounted  – Sent sandwiched between 2 sheets of board for protection. Then just take it to be framed. Easy